My reading streak since before Christmas has been delighting me – I've read more books than I've watched films or Netflix shows so I think this is excellent progress. My reading mojo is officially back in the building, hallelujah!
I've also been devouring  podcasts at an alarming rate, alternating between anything by or featuring Dolly Aldterton (my love for her has featured in my previous #LittleLoves post) but also an array of food podcasts, particularly Talking Tastebuds by Venetia Falconer and BBC Radio 4's Food Programme. SO many things to learn about food, it never bores me.
So lots of media has been consumed, I've had to narrow down my favourites for this week's #LittleLoves post, so bear with me…
READ
My most recently completed novel is 'Eleanor Oliphant is Completely Fine' by Gail Honeyman. What can I say about this book? I absolutely loved it. I had read a little of the hype surrounding this author's debut novel and had listened to an Audible extract and was intrigued but I didn't expect to love it as much as I did.
It's a tale of loneliness, kindness, self-discovery and friendship. In a nutshell. I hope this isn't an overly simplistic description.
We might all know an Eleanor Oliphant. They're perhaps a quiet colleague or neighbour who you notice as strange and 'un-social' from the way they do or don't express themselves and you might easily write them off as a 'weirdo' but this is the story of how far a little kindness can go in unpicking this and discovering the heart and soul of someone who has rather been forgotten by the world and pushed out.
Eleanor doesn't fit the description of loneliness we so often read about in the media, she's not elderly or infirm. She's 31 and has worked in the same office since she graduated from university. She has a carefully planned routine of work each day, Tesco meal deals and weekends taken up by frozen pizza, 2 bottles of vodka and books. She drinks a profuse amount of vodka each weekend alone in her flat to numb herself from feelings and memories she does not wish to face. She dislikes drinking in public of course and isn't exactly an alcoholic – the book isn't about that, the vodka drinking is an important part of the story but not central to it.
She is constantly perplexed by popular culture, other people's habits and manners and purposely avoids social interaction. Her own social skills are poor – she is very blunt and doesn't hide her discombobulation at other people's behaviour. She perceives herself as superior (which some might say is completely at odds with her situation – effectively alone in the world).
She is also self-assured in her self-deprecation – she doesn't feel sorry for herself; she talks about her aloneness in such a matter-of-fact way that you don't feel sorry for her either, at first. Her perception of her situation becomes more poignant as the book progresses though: "When the silence and the aloneness press down and around me, crushing me, carving through me like ice, I need to speak aloud sometimes, if only for proof of life."
She speaks artfully and intelligently, and is effortlessly hilarious in her observations, such as this one, when she visits a fast food place for the first time: "There was nothing to tempt me from the choice of desserts, so I opted instead for a coffee, which was bitter and lukewarm. Naturally, I had been about to pour it all over myself but, just in time, had read the warning printed on the paper cup, alerting me to the fact that hot liquids can cause injury. A lucky escape, Eleanor! I said to myself, laughing quietly. I began to suspect that Mr. McDonald was a very foolish man indeed, although, judging from the undiminished queue, a wealthy one."
Then as she attends her first ever party:
"Human mating rituals are unbelievably tedious to observe. At least in the animal kingdom you are occasionally treated to a flash of bright feathers or a display of spectacular violence. Hair flicking and play fights don't quite cut the mustard."
Anyway I certainly didn't mean for this to turn into a book review – but do please, read Eleanor Oliphant is Completely Fine. You might just find, like I did, that Eleanor is an unusual but true literary heroine of modern times.
WATCHED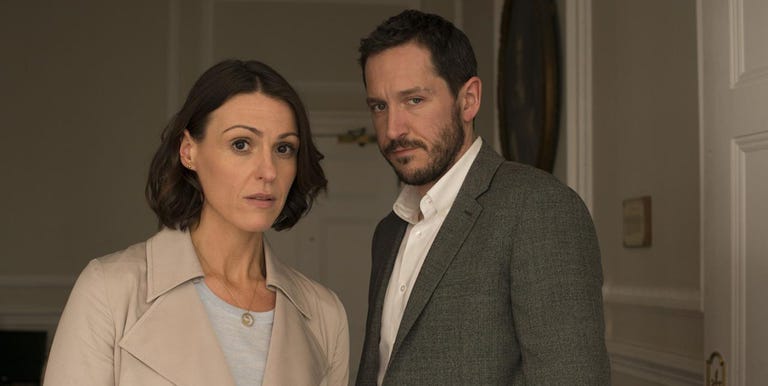 Late to the party, but I have just polished off both series of Doctor Foster, starring Surrane Jones. This was a fantastic, gripping story of a GP who's life and sanity unravels when she finds out her husband is having an affair. It is full of angst, dramatic denouement and tense scenes you can't avert your eyes from.
You of course start out feeling awful for the scorned woman and you still feel some sympathy for her philandering husband (though not too much) – but by series 2, both characters have launched an obsessive campaign of hate and revenge upon each other, a war so brutal that you don't know who's side you're even on – possibly neither of them.
The second season focuses more on the damage it's all doing to their teenage son. This is a more difficult subject matter than simple adultery and betrayal – and it's hard to watch at times.
It's a very good portrayal of humanity unravelling – well worth a watch if you are looking for a binge-worthy series.
HEARD
I highly recommend The High Low podcast by Dolly Alderton and Pandora Sykes. I really enjoy listening to these two thoroughly intelligent and well-read women (both journalists)  discussing current events and popular culture.
They discuss books and articles they read, headlines that dominate the news, as well as the lesser known stories that deserve public attention and they give well-researched reading recommendations.
I don't always agree with all of the opinions they express, but I love to hear their points of view and but their witty, bright and breezy style of delivery is addictive. A must listen for your commute!
MADE

Cheese scones. Gluten-free cheese scones. They did not rise, despite the self-raising flour and baking soda, but they were dense (in a good way), cheesy, moist and full of flavour. Quite heavy though.
You can find the recipe here. I added spring onions.
WORE
I wore this summery red and white polkadot dress handed down to me by my mum. I love this dress with a passion. I remember my mum wearing it in the nineties and thinking she was the most beautiful thing in the world.
It doesn't fit me as well as it did – due to my expanded rib cage (thanks, pregnancy) and it's rather short so I wore leggings with it, but this is a gorgeous summery number that makes me feel like a million bucks.
Sadly the only picture I have of me wearing it is this one where I tried to take a selfie with my friend's snake and the little bugger disappeared into my cleavage.